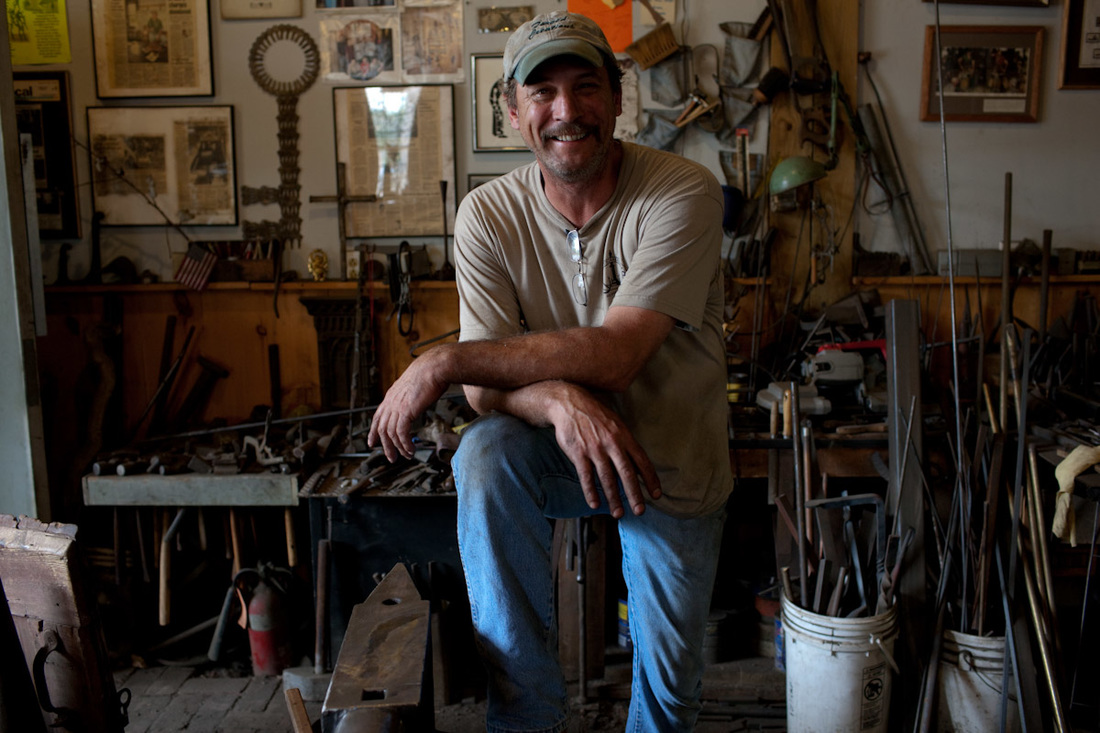 If the statement that "artists are born, not made" is true, then Kerry Rhoades is living proof of the genetic lineage that artists possess. Born in Media, PA in 1958 to a mother who was a public school art teacher and a father who was a photographer, Kerry's affinity toward art seems natural. However, when you consider that his grandmother and aunt were also art teachers, his older sister is an illustrator, his younger sister is a graphic artist, and his older brother is an architect and master woodworker, it's easy to understand how Kerry has been surrounded by artistic vision throughout his life.
From an early age, Kerry was intrigued by artistic beauty, and he found the beauty in nature to be most appealing. He studied wildlife management at SUNY Morrisville, and he has used his knowledge of our wild surroundings to create intricate – and astounding – works of art.
Kerry founded Forged Creations, LLC in 1990 as a means to express his love for the beauty of the natural world around us. Using expert blacksmith skills exhibited by few people throughout the country, Kerry imagines, designs, and fabricates functional works of art that mimic nature and reflect its wondrous beauty. For more than 26 years, Kerry has created gates, railings, sculptures, and other three-dimensional works with steel, copper, bronze, brass, and stainless steel.
Commissioned by historical preservation organizations, museums, businesses, wildlife organizations, and individuals, Kerry has become one of the most sought-after metal-working artists in the Mid-Atlantic region. His commissions include large- and small-format pieces for Winterthur Museum, the American Birding Association, various Harley Davidson dealerships, the Vietnam Memorial in Townsend, Delaware, and the tall ship Kalmar Nyckel. His works have been exhibited at Hagley Museum, the Philadelphia Flower Show, and The Wilmington Flower Market, and his craftsmanship and blacksmithing expertise have been featured in various publications, including the Delaware
News Journal
,
Delaware Today
, and
Lives Shaped by Steel
.
Browse through Forged Creations portfolio to see some of the work completed by Kerry Rhoades.
For more information or if you are interested in having Forged Creations make something for you, please contact Kerry at 302-832-1631 or email kerry@forgedcreations.com.
​
---